Never Worry About a Dead Phone Battery Again!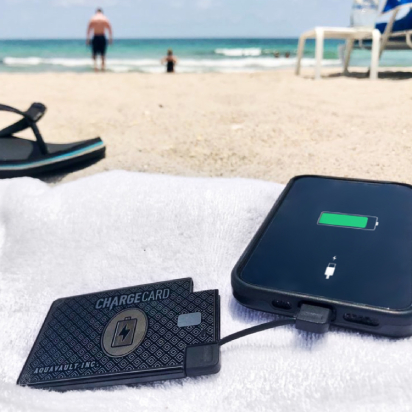 ChargeCard's innovative design includes durable stainless steel construction and fast charging technology, making it a reliable source of power for your devices.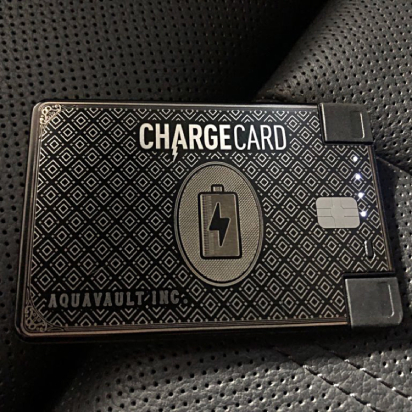 Simple LED Charging Indicators
The four LED power indicator lights display your charging progress, freeing you from constantly checking your device's battery status. Convenient.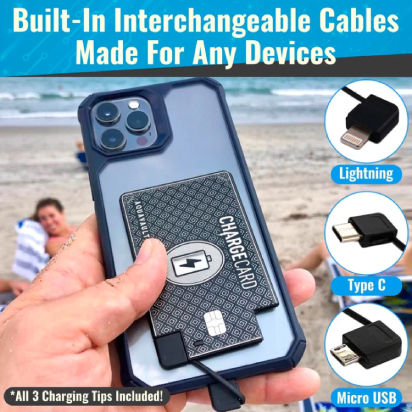 Featuring built-in cables and compatibility with a wide range of devices, you always have a reliable source of power, no matter where you are.
Lightning-Fast Charging
ChargeCard's fast charging technology (1.5A) ensures that your device charges quickly and efficiently, so you can get back to using it without delay.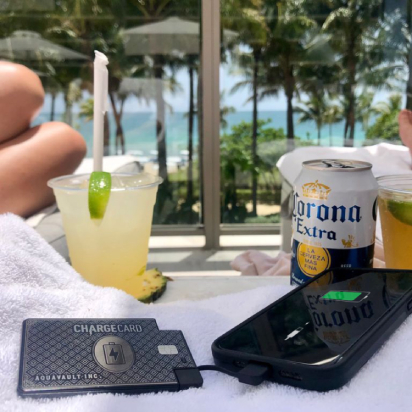 With a powerful battery size of 2300mAh, ChargeCard has enough juice to charge any phone, ensuring you always have the power you need.
Stylish and Attractive
ChargeCard's sleek and stylish design is not only functional but attractive as well. Prepare yourself for compliments when people see it!
Backup Power That Fits in Your Wallet
ChargeCard's ultra-compact size is perfect for those who want to stay charged without carrying bulky power banks or cords. At just 0.1 inches thick and 3.3 x 2.3 by 0.1 inches in size, it weighs only 2.2 ounces.
It fits so easily into your pocket, wallet, or purse that you won't even notice it's there until you need it!
ChargeCard is the ultimate charging solution for those who need reliable and speedy power on the go.
Featuring fast charging technology (1.5A) and a powerful 2300mAh battery size, ChargeCard delivers quick and efficient charging for any device.
What Satisfied Customers Had to Say
"I will definitely bring the ChargeCard with me on my next trip, because it's so compact, won't complicate matters with tangled cords, and is easy to use. And I think it will be a perfect asset in my armor for when I attend a trade show next month.
At those types of conventions, I tend to run down battery life quickly every day. So with the ChargeCard, I'll never have to worry about finding a wall plug mid-day or lugging around a larger and heavier portable charger."
ChargeCard is a lifesaver! I was tired of carrying around bulky power banks and cords, but I needed a backup power solution for my phone. ChargeCard is so small and slim that it fits perfectly in my wallet. I never even notice it's there until I need it. And the fact that it charges my phone super quickly is just icing on the cake. ChargeCard is perfect if you want to simplify your life and stay connected on the go.
I'm blown away by ChargeCard's performance! For such a small device, it sure packs a punch. I love that I can charge all my devices without carrying around a bunch of cords and adapters. And its sleek, stylish design doesn't hurt either. I would definitely recommend ChargeCard to anyone who values portability and functionality.
Special Promo Offer on Now
Order Today and Get 50% OFF
This discount is valid for a limited time only. Stocks are limited – act now!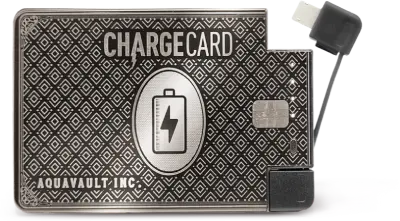 But in case you're not satisfied, we are offering you our 60-day money-back guarantee. You can return your package for a full refund.
Special 50% Off Discount on Now. Limited Time.